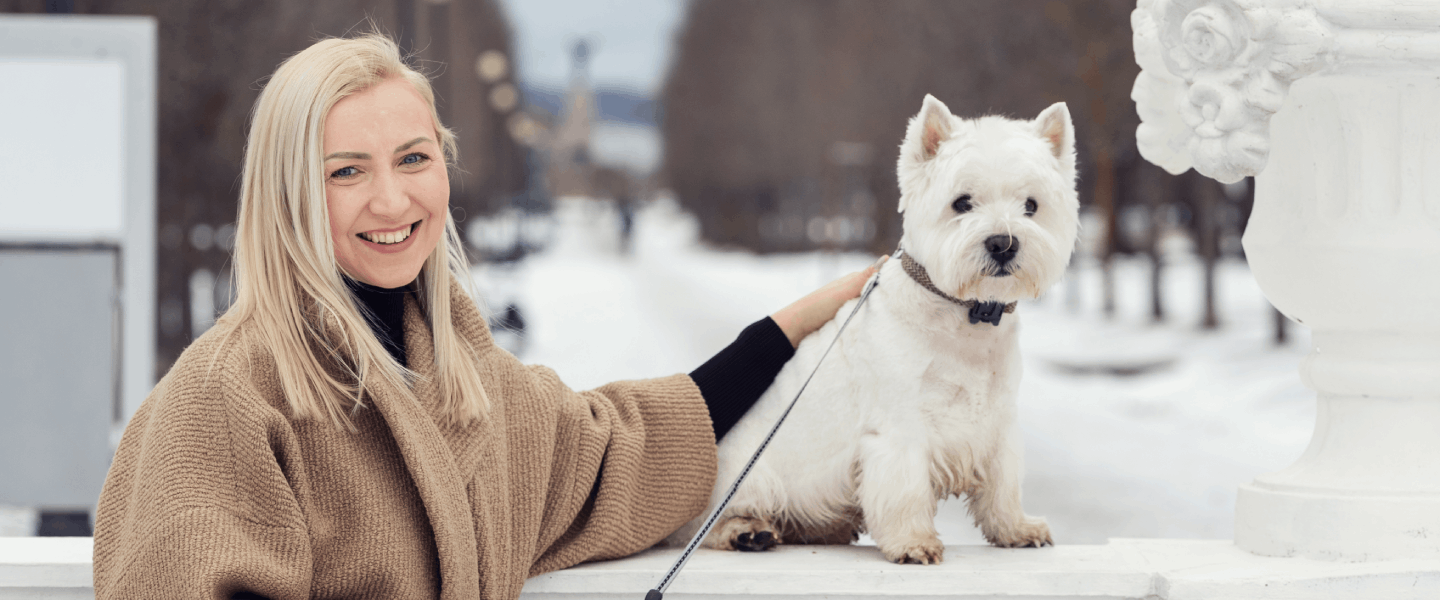 Grant Thornton partner and head of outsourcing Anastasia Borovaja has been working for more than 10 years to ensure that her day-to-day work offers an unforgettable customer experience and high-quality service while the company is also seen as an attractive employer.
Born and raised in Tamsalu in Lääne-Viru County, the spunky Anastasia has been setting goals – and then attaining them – since early childhood. She says it all starts from an idea and the courage to experiment – and she has had plenty of that.
Create possibilities for yourself
Anastasia, who today is fluent in Estonian, started her schooling in the Russian-language education system. She attended a Russian school in Tamsalu for the first five grades. Not speaking Estonian very fluently at the time, the plucky girl decided that she wanted to attend an Estonian school from the 6th grade on. Actually, the reason was quite prosaic – the closest Russian-language secondary school was in Tapa and the girl didn't want to go there, so halfway through primary school, she prepared herself mentally and had already made the decision to opt for Estonian-language education. Once the idea had been planted, Anastasia also saw it through, typically for her. "The teachers and all of the new school community were very supportive, so I got used to my new environment pretty quickly and studying in the Estonian language also became a natural part of my life," Anastasia says, thinking back.
After graduating from primary school, a new goal arose – move to Tallinn for upper secondary school. More precisely, Anastasia set her course for admission testing to get into the selective Tallinn English College. She asked her father to drive her to Tallinn for the tests. Another important encounter took place the same day: meeting a girl who would later become a good friend, also not from Tallinn. They agreed that if they got in, they would stick together. They were, and that autumn they rented an apartment together and dove headlong into prep school life. "She is still an important friend for me, someone I don't manage to meet as often as I would like, but the years we roomed together in the capital and recollections of that time laid the foundation for a strong friendship," says Anastasia.
After graduating from the English College, Anastasia became a customer service associate at Denim Dream. "It started as a summer job but as it turned out, I ended up spending another five years working for that company, Põldma Kaubanduse AS. It was just such an interesting company that offered so many growth opportunities that I couldn't turn it down." While working there, she enrolled in the Tallinn University of Technology as an economics major and that gave her a good foundation for her future professional life.
Working at Põldma Kaubanduse AS, one thing led to another and she found the opportunities for growth inside the company so rewarding that Anastasia managed to get a lot done in the years that followed. "What I liked, and still do, about that company was that they were customer service oriented, and do everything in the name of the customer's well-being. And so I soon got promoted from customer service person to store director, then purchasing manager and then later head of the purchasing department. I got to travel a lot and meet a great assortment of interesting people." Despite her young age, she kept on climbing the career ladder until she finally felt that if she wanted to accomplish something in another field, it was time to dismount that carousel, as it were.
The company's development in those five years had also been fast: Denim Dream had only 12 stores in 2004-2009 but later expanded to 40 locations. "I really liked the clothing retail business back then and I was enthusiastic about the work I was doing." Yet at some point – even though no new challenge had caught her eye just then – she decided to get off that train and take some time for herself.
Hands in her pockets and waiting for new opportunities
And so half a year passed, with Anastasia just taking time off, learning and seeking inspiration. Then her friend's mother mentioned that they had an auditor's assistant opening at their company – did she know anyone who might find the opportunity appealing? After Anastasia went through all of her possible friends and acquaintances in her mind, she in fact decided to interview for the job herself. The rest is history.
"I can honestly say that until then, I hadn't had previous experience in the accounting and auditing field. There was much to learn, but Mati Nõmmiste and Janno Greenbaum, who interviewed me, saw potential in me. I'm very grateful to them for that opportunity."
In December 2009, right before the start of the season, Anastasia became assistant in the auditing business area at Rimess. That meant she dove into projects right away. A period of intense study ensued. "Russian language proficiency at a professional level was extremely important in this work and besides having to master numbers and Excel in a specialized field, I had to hone my Russian in this field quickly." At the same time, I fit in well with the team, and certainly it was important that Janno supported and mentored me in every way and I could always ask co-workers questions."
In that position, she got a sense of the big picture and mastered the content of accounting. "The three years in audit went by quickly – and by the end of that period I was in the role of project manager. As time went by, I eventually became head of accounting services – that was in 2013. There it was my job to map the work processes, the positives and negatives and continue to develop processes. Finally, I had several dozen accountants working under me. I was responsible for both the team and the customer portfolio," she adds.
Now eight years have passed and Anastasia still continues to find appropriate challenges at the company. What has kept her at the same firm for so long? "The team and the interesting work are the reasons I stayed on. And of course, also the fact that the work processes have changed, ten people have joined my team during my time. Technological progress and changes in the software have made the technical side of the work different. It has all fostered as feeling of satisfaction with my work."
Anastasia says satisfaction of her co-workers and customers has always been important to her. "We've devoted attention to customer-side requirements for the service – so that the processes are logical, understandable and clearly documented. We place significant emphasis on quality control. Even more important is for the team to embrace the changes. If customers receive extremely good customer experience and our efforts bear fruit, we're all satisfied. We are consistently working to make it happen."
Feedback on changes made to the team is another part of streamlined service. "Smooth rotations of personnel on the team are important, based on customer experience. Our bottom line is that no matter what happens at the company, transparent change and control procedures, availability of information for colleagues remains important. One of the biggest challenges of quality control is how to do your work so that the knowledge is not concentrated in the hands of one person. Continuing service is important in any situation – whether the someone has left the team, is on sick leave or is substituting for someone who is on leave. Our goal is that the team can rest up and that everything is meticulously correct in terms of the service the customer is getting. Employees must be happy and the precondition is a balance between work and private life."
Team – the key to success
What does Anastasia value in her co-workers and which companies does she find it good to work for?
"For me, the company's culture and the people who cultivate it have always been important. I value people being given room to operate and be trusted. Asking for help and advice is to be welcomed but the employees are allowed to make their own decisions. As a result, I feel that team players are the right co-workers for me. The main thing for me is that our values have to be compatible, which doesn't necessarily mean that we always agree. I think that technical skills can be learned but human values are inborn. I like people with open minds who are oriented to solutions – the desire to work as one and communication are important for work to function successfully," Anastasia says, adding that work in the services sector is certainly not the easiest kind.
"This kind of work is suitable for people who can tolerate routine but are always prepared for the unexpected. A 'let's get it done' attitude is important." She also considers it important to talk about worries. "Trust and sense of security in my regard and within the team are important for me," she says, noting that each year, anonymous feedback is also elicited in the company, providing a chance to air one's concerns and positive emotions.
To sum up, a service provider should relish interaction, have a natural curiosity, and thirst for new situations. Sometimes it can be a grind bashing out the details, but you always have to like new things.
Free time – a chance to charge batteries
Of course, Anastasia also has a life outside of work. How does she spend her free time and recharge? "Yes, maintaining a balance is important for me as well. I have to be able to do things outside the accounting department – that is a mental vacation for me."
Anastasia says physical exercise is also a must. "For a while my partner and I played golf." She highlights the fact that golf is also played with the mind, not just the body.
At some point, she also discovered tennis. "Quick reflexes are important, and I value that. For me, being at home with my family is certainly another thing I cherish. We take a lot of walks in the Kadriorg district. My partner and I are also food connoisseurs. We do a lot of cooking ourselves and watch cooking TV shows for new inspiration. Our second home in the Saaremaa island countryside is very important – though we never imagined we would move there as happened during the pandemic. It has been unbelievably enjoyable that we have been able to design the country home exactly the way we liked, and that the renovation took much of our free time. "Sometimes simple activities are important and it's extremely enjoyable to see the result and change that comes about from your work." And her old love for the world of clothing hasn't gone away. If she gets the itch to create something, she sews for herself and her child.
Work can be done from anywhere
Coming back to accounting, Anastasia says that the pandemic has inevitably meant a change in philosophy in nearly all walks of life. "We made the move to allow remote work early, at the beginning of the pandemic. The whole company's work was re-organized so that everything can be done remotely. You can get everything done via Teams, but traditions and work events presume face to face meetings – that is what the team can't allow right now, and it's missed. In-person interaction is important and nothing can replace it. I know there is a longing to get that team feeling back. Employees' main concerns tend not to be related to work but rather social interaction. Face-to-face interaction is important for both the team and the supervisor," she says.
Over time, Anastasia has considered it important how to optimize and simplify the time necessary for work and improve the cooperation between accountant and client. "An accountant's valuable time could ideally be spent on interacting with the client rather than processing data. For a long time, we were on the hunt for accounting software that would be suitable for us. Although developing new software wasn't our first choice, we ultimately decided to spring for a new software system, after weighing various pros and cons. The idea eventually led to the Acclouding solution.
Acclouding was developed first and foremost with an accounting firm's needs in mind; it gives an office manager plenty of options for managing their customer portfolio. Flexible management of user rights allows the work to be distributed between employees at different levels and it also allows you to get the customer involved in their company's accounting. Interfaces with banks, support for e-invoicing and digitization of PDF invoices without additional expenses could be the minimum expectation every accountant has from their main tool they used in their work. "In addition to that, we're glad that use of Acclouding is intuitive and easy to learn for both accountant and customer, which is undoubtedly very important for a service."
Getting better – another key to success
Acquiring new knowledge and learning new techniques is also important in an accountant's work. "Our company's training programme is multifaceted and takes into account our people's needs and suggestions. It's self-evident that professional training courses have to be administered regularly but we also focus on other areas. Customer experience, self-management or arranging work from a home office are just a few of the topics in our training calendar. Reading books is something Anastasia is fond of – reading e-books is how she spends the three-hour trip between Tallinn and Saaremaa as a passenger. Of course, I also follow a number of blogs, listen to podcasts and take part in conferences to distil new ideas and knowledge needed to develop as a human being, a co-worker, adviser and manager."
Her major goal in the near future is to continue work on developing Acclouding, focusing on localizing the software for Latvia in addition to Estonia and Lithuania.
Within the existing service, Anastasia has two major challenges – accounting for assets held in cryptocurrency and developing the payroll accounting service further. In the first case, a number of specific issues have to be resolved and the technological gap when it comes to accounting for companies operating in the crypto field needs to be filled. The desire in the second case is to improve the "soft" side – by improving the employee's, i.e., the payroll accounting service end user's, experience of the whole payroll accounting process. "We need to work on a daily basis to make sure we employee satisfied people. We consider it important to take into account our people's wishes and goals and want to retain our staff. It's important for us that our people be motivated and want to stay with us even after the quick initial development period is past."
Anastasia Borovaja's advice for accountants:
Find "your" people – the people with whom it's more fun to sail through (professional) life
Split up big goals into smaller stages – that way, you'll experience the feeling of success while you're still on the way to attaining the big goal!
Be curious – read, learn, ask
Be open to new ideas and technologies
Be happy about your failures, too – they're a learning experience!
Care about yourself and those around you