Why outsource payroll service from us?
Payroll can be a significant cost for the company by consuming a lot of time and investments to payroll software. It also requires staying top of legislation that can be change quite frequently. When you leave payroll to Grant Thornton Baltic, you can rest assured that:
Payroll is always done correctly and on time. We have several accountants working for your company's payroll to ensure the delivery and best quality, and we'll never miss a deadline due to anyone's illness or absence.
Payroll data will never leak. We use secure state-of-art technologies for providing payroll service and the information exchange is always password-protected.
Personal data processing requirements are always followed. Payroll also covers the processing of extensive personal data. We are able to ensure that the processing, recording, storage, transmission, disclosure or destruction of personal data is in accordance with applicable requirements.
Payroll accounting is performed in line with legal requirements. We keep up to date with amendments to taxation and labour law and update our payroll software accordingly. This means no additional time or expenses for you.
Kristiina Püttsepp, Member of the management board of Luisa Tõlkebüroo
"We associate the two words Grant Thornton with quality and competence."
Payroll and financial accounting is always on time and accurate
"We live in a world that puts a premium on speed, accuracy and trustworthiness. As a provider of international sports statistics, we live by those values and expect the same attitude from our partners and service providers.
Close to 15 years of cooperation with Grant Thornton Baltic has vividly demonstrated that we are a great fit for each other. Payroll and financial accounting for our Estonian-based company with its 220 employees is always on time and accurate. Besides the fact that the numbers always add up, we are also glad that there is a good fit between people. Grant Thornton's specialists are characterised by their forthcoming, friendly attitude and sincere desire to always offer the best."
Joel Järvela, Member of the management board of Sportradar OÜ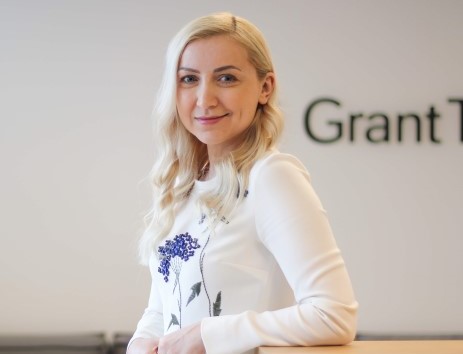 We perform payroll accounting for companies whether they employ a few or hundreds of employees. Come in for a free consultation and we'll get into the details of a possible arrangement.
We do not offer one-size-fits-all packages, but always proceed from the wishes and needs of each individual company. The price of the service is determined based on the size and specifics of the company. If necessary, our tax, legal or business advisory professionals will also assist you.
Our payroll service received an international award!
Grant Thornton Baltic is proud to be a local payroll partner of ADP in the Baltic countries named as one of the winners for the 2018 Partner Excellence Award. The award goes to ADP partners who have done very good work on ADP clients' payroll accounts. The most important metrics are timely and error-free payroll accounting, automation and security of the payroll software used and transparency of procedures - every part of the payroll process must be able to be subsequently verified by ADP auditors. Grant Thornton Baltic has been awarded for outstanding results in all three Baltic countries!
For us, the greatest recognition is a satisfied customer, so it's extremely gratifying that eight of 10 clients would recommend Grant Thornton Baltic to others.
The data are from a Kantar Emor survey conducted in 2018.