Entrepreneurs believe the hard times are past and increasing turnover and profit will also lead many countries' economic growth to faster recovery. A survey conducted by tax and business advisory firm Grant Thornton among business people in 36 countries found that business optimism is at a two-year high.
The US business community has a particularly positive take on the future outlook, and this injects confidence into the other countries as well – the US is after all the world's biggest economy and if the sentiment there is that things are getting better, it will have an influence on the world economy. It is likely that one reason for American optimism is not just good access to financing and the strong dollar but also President Donald Trump's position that the government policy has to be favourable to business. Besides optimistic expectations as to increasing turnover and profit, the American business community is also planning more investments: 43% of companies are planning to increase investments into equipment and plant in the next 12 months.
Americans injecting optimism
Americans' strong belief has also spread across the ocean to Europe. Here Germany stands out as having the highest business optimism, where close to three-quarters of businesses feel that the economy will be in good health. In Estonian business circles, economic confidence is significantly lower than in Germany: only one-quarter of the Estonian business community is optimistic about the next 12 months. No doubt the tax policies of the new government, which replaced the old one in late autumn, play a role. They have been criticized in business circles. For Estonia, one bit of good news however is that Estonia's two biggest export partners – Finland and Sweden – are very bullish on their economy and companies, and this could in turn mean greater export potential for Estonia.
Yet Estonian companies are very conservative when it comes to prospects of the export volumes increasing in the next 12 months: only 16% of the business people surveyed in Q1 of this year felt that export could be increased. Compared to Q4 of 2016, the share of those forecasting an increase in export has halved. The current healthy economy in Finland and Sweden is a boon for Estonian companies that were able to invest in previous years in spite of instability– the now have the capability to increase production volumes and promote sales.
Europe has confidence that exports will grow
Nevertheless, the rest of Europe sees better opportunities for foreign trade. Once again, the Germans lead the pack: over a third of Germany's entrepreneurs believe that they will be able to increase export in the next 12 months. The Irish and Dutch businesses' plans to grow exports are also on par with the Germans'.
Just like their counterparts in the US, European businesses plan to make more investments into plant and equipment, and also plan to establish new buildings.
Even companies in Greece, Europe's recent sick man, are optimistically minded, and the Greek economy is showing signs of recovery. Close to half of the companies plan to recruit new staff within the year and grow their profit. Close to 60% of companies expect turnover to grow.
Rising wages in Germany, Sweden and the US
Plans for growth inevitably mean the need for qualified workforce and an increase in the numbers of some employees. And at the same time, European companies see the lack of qualified workforce as a major obstacle to growth. Still, the recruitment plans are fairly extensive: for example, close to half of Finnish and Swedish companies plan to hire in the next 12 months. In Estonia, the figure is one-quarter of companies.
Wage pressure has not gone away and in much of Western Europe and the US; employees can expect a rise in wages soon. For example, in the next 12 months, an entire 85% of German companies, 90% of US companies and 92% of Swedish businesses plan to increase wages at least to keep up with inflation. The lowest share of companies that promise wage raises was in Greece (8%) and in Finland and Estonia (both 36%). This may be a bad news for Estonian employees, but considering how wage rises have recently outstripped labour productivity in Estonia, neither would it be good to further stoke rising wages.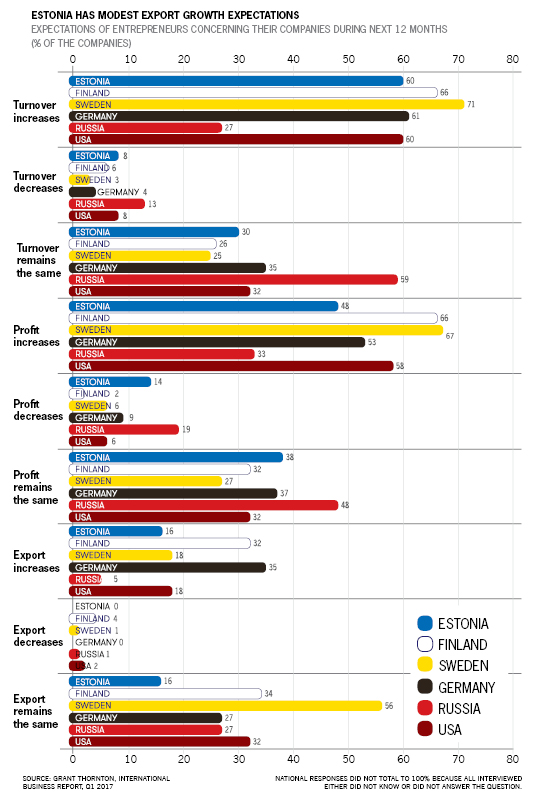 Once every quarter, Grant Thornton International Business Report (IBR) surveys business people in 36 countries to find out their expectations about their country's economy and their business.The data in the survey referred to in the article were collected from more than 2,400 executives in Q1 of 2017.