Grant Thornton's International Business Report, covering 36 economies, showed most companies are currently less optimistic about the well-being of their country and business than at any time in the last three years.
It's no wonder, as there are plenty of reasons for pessimism: vulnerable financial markets, fluctuations in the price of oil, concern about terrorist attacks, insecurity about possible Brexit and the US presidential election result have made entrepreneurs cautious. That is the case in Europe, the US, Latin America and Asia. Insecurity is so great that even the positive economic indicators – the drop in unemployment in many countries, including the US and Germany and the increase in retail turnover – do not make it seem any rosier for companies.
Scant hope for growth in sales
Grant Thornton's survey showed that only 35% of the 2,500 companies surveyed expect revenue to grow in the next 12 months: That is the lowest result since Q2 of 2012. Expectations for export growth are even lower: only 13% of companies think they will be able to export more in the next 12 months, a five-year low.
Looking at the Baltic states, Estonian companies' turnover and export growth expectations have plummeted the most compared to Q4 of last year. At the same time, Estonian business people's economic outlook should be bolstered by the fact that European countries stand out in the study for maintaining the same level of business optimism in the last few quarters. It is practically the only region in the world to see such a trend. As 80% of Estonian exports went to the European Union last year, the positive mindset of business people in Europe should also bode well for Estonia.
Taking advantage of unsettled times
Drawing parallels with the stock markets, it's well-known that investor emotions also play an important role along with hard economic data. Panic is quick to spread, just like euphoria. I would recommend Estonian companies not to take the current insecurity to heart and to turn the situation to their advantage: now is a great time to invest in one's company (employees, product development, technology) to be ready for the growth years.
One note of optimism could be found in the report, and it applies to Baltic entrepreneurs as well. Nearly one-fifth (a five-year high) of the businesses in the 36 economies plan to raise wages this year, at least to keep up with inflation. That's good news for employees and the retail sector, which gets a share of the money that reaches consumers. Employees at close to half of Lithuanian companies can expect wage growth but around 40% of companies in Estonia and Latvia plan to increase pay at least to keep up with inflation.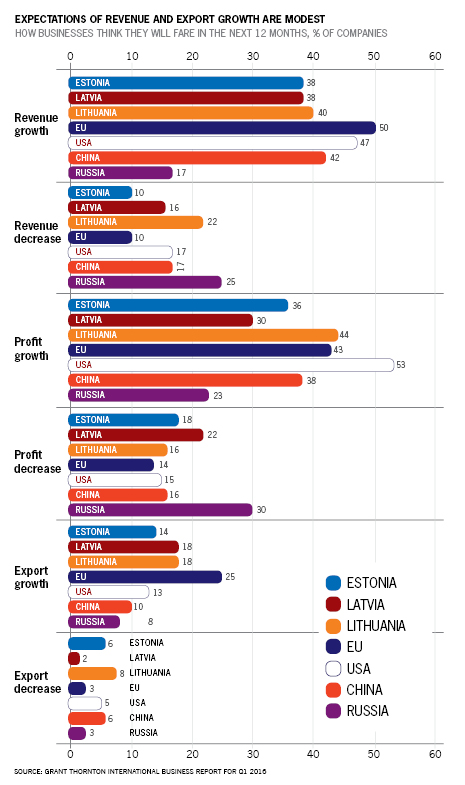 Once every quarter, Grant Thornton International Business Report (IBR) surveys business people in 36 countries to find out their expectations about their country's economy and their business. The data for this study were gathered from the heads of 2,500 companies in January and February 2016.