What is customer and sales management software CRM?
A CRM software provides a company with a comprehensive overview of its customer data and relationships, thus, supporting both sales and marketing. As a result, both the company's sales activities and internal efficiency improve.
Although many still see CRM software as a digitized Rolodex, with the advancement of technology, CRM software has become a much more important tool than just a database of business contacts. Modern CRM software supports employees in sales, marketing, customer service, business analytics and billing.
With a modern CRM system, sales managers can build better lasting relationships and measure and map the effectiveness of their sales pipeline at every stage. Modern CRM is characterized by technological intelligence, which includes greater automation, lead management, automatic reminders, email campaigns and website integrations.
Customer Relationship Management (CRM) software market
Customer Relationship Management (CRM) solutions are therefore an everyday part of any modern business. Grant Thornton's CRM software survey found that nearly 57% of our customers use a CRM software. However, there is a wide range of CRM software being used, ranging a from simple 'digital Rolodex' to a sophisticated CRM software that includes project management, integrations with major marketing platforms and automation capabilities. Therefore, there is no reason to crown one or the other "The best CRM Software 2020", as the needs of companies vary greatly depending on the sector and level of development. It is important to find CRM software that best aids you in achieving your business goals.
Although there are hundreds of CRM software for different purposes in the world, in this comparison we are going to highlight the 5 most popular CRM solutions with their strengths and weaknesses – we will help you navigate a world saturated with CRM software and find the best fit for your company.
Salesforce
Salesforce is one of the most popular and widely used CRM software on the market – a flexible solution for mostly larger companies that needs a 'tailor-made suit'.
Photo: Salesforce
Price
22–260 € per month / user, depending on the functionality and needs of the company
Strengths
✅ One of the best 'tailor-made' solutions for any company. Salesforce has a wide range of business solutions to offer that are seamlessly integrated with each other
✅ Monitoring the customer's lifecycle
✅ Business analytics to track results, such as turnover, average invoice amount
✅ Plug-ins and their application ecosystem
✅ Integrations with other software, e.g. Mailchimp
Disadvantages
🚫 It is a complex CRM software that is only suitable for larger companies.
🚫 As with large platforms - customer service is automated and therefore it may take longer to find a solution
ZOHO CRM
Although Zoho's focus is officially on small and medium-sized businesses, we believe it is suitable for businesses of all sizes. Zoho's charm lies largely in the fact that its functionality is not limited to that of a CRM software – potentially, an entrepreneur can bring all of their day-to-day administrative tasks (sales, billing, project management, email marketing, employee management and training, etc.) to one environment using Zoho's various software packages.
Photo: Zoho
Price
10–29.99 € per month / user
Strengths
✅ Zoho offers a wide range of options - from digital marketing integrations to process automation.
✅ Possibility to create a customer portal, where the customer has the possibility of self-service and an overview of the product / service / project progress
✅ Integrations with the company's website - e.g. customer inquiries are automatically transferred to the CRM software
✅ API - possibility to integrate with existing software and automate
✅ A working all-in-one solution at a reasonable price and without hidden costs
✅ Large selection of free and paid add-ons that extend Zoho's functionality (e.g. integration with Google Ads to monitor marketing ROI)
✅ Strong developer support
Disadvantages
🚫 Zoho UI design may seem outdated
🚫 Difficult to use for a micro enterprise
Pipedrive
Pipedrive probably needs no introduction to any Estonian – it is the flagship of our own local CRM market. Originally, Pipedrive started out as a purely sales management software, but today it has become a powerful tool for a company that wants to improve both its customer experience and the efficiency of its sales pipeline.
Photo: Pipedrive
Price
12.50–99 € per month / user
Strengths
✅ Clear historical overview of all contacts with the lead or customer
✅ Excellent overview of the sales pipeline
✅ User-friendly environment
✅ Smart chatbot for generating leads from a website
Disadvantages
🚫 Strongly focused on the sales pipeline – there are a number of tools available on other platforms such as project management and billing
Scoro
Scoro is another well-known CRM provider based in Estonia. From the beginning, Scoro's focus has been strongly on project management and invoice management, so the focus is mostly in-house as well. It is perfect for a small or medium-sized company that wants to improve its internal processes. At the same time, Scoro also gives a neat overview of the company's sales pipeline.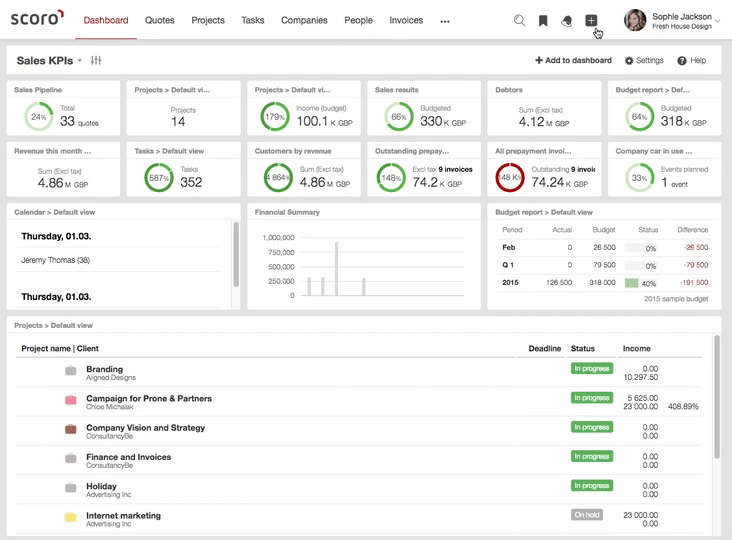 Photo: Scoro
Price
19–54 € per month / user
Strenghts
✅ User-friendly cloud-based environment
✅ All in one place project planning, time recording and management
✅ Great invoicing solution and automatic reminders
✅ API – possibility to integrate with existing software and automate
Disadvantages
🚫 Does not integrate with larger marketing platforms (Google Ads, Facebook Ads) – no way to measure the performance of marketing-supported offline sales
🚫 Integrations are only available for selected accounting software (Quickbooks, Xero, SmartAccounts, Merit)
🚫 Pricing is dynamic according to the functionality required – the monthly fee can quickly increase if additional features are needed
HubSpot
HubSpot can be considered one of the best CRMs because it brings together both marketing and sales, thus, focusing on all the stages of the customer's lifecycle. Hubspot is also believed to be one of the most user-friendly CRM software.

Logo: HubSpot
Price
43–2570 € per month, depending on the size and functionality of the team
Strengths
✅ User-friendly cloud-based environment and easy-to-understand navigation
✅ Free version to get acquainted and get started
✅ Marketing and sales integration and automation
✅ Great choice for a company whose business is strongly digital marketing and web based
Disadvantages
🚫 Setup can be difficult without technical assistance for a developed company
🚫 The price may add up if you require a lot of functionality
Obviously, this is not an exhaustive review and many high-level CRM software have been left out of this review, such as Oracle CRM or Microsoft Dynamics. Nevertheless, we did our best to provide an overview of the CRM software that is best suited for small and medium-sized businesses.
When choosing a new CRM software or for the first time, it is definitely worth thoroughly analysing what the company's needs are and which software best satisfies them, taking into account cost-effectiveness and implementation costs.